Joyeux fête d'Halloween, mes amis! And welcome to my very first First Impressions review of Kenny Ortega's 1993 Halloween comedy, Hocus Pocus, starring Bette Midler, Sarah Jessica Parker, and Kathy Najimy.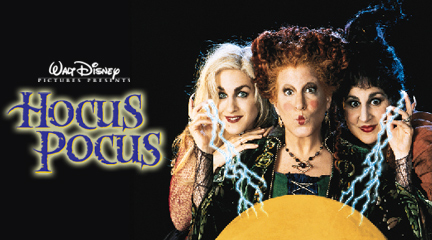 Previous Knowledge of the Film: I might have seen a clip or two years ago, but I was too busy trying to figure out what was up with Midler's dentures to pay attention to the plot. This series got started because my coworker, A., was scandalized that I had not seen it. So this review is for her.
Recap: On Halloween night, Max, the new kid in Salem, Massachusetts, accidentally resurrects the three witchy Sanderson sisters, who seek to steal the souls of little children to make themselves immortal.
First Impressions:
I was always told that running away from your problems won't solve them, but in this movie, it seems like a lot of Max, Dani, and Allison's problems could be solved by running away. Seriously, they just stand there when there are three bloodthirsty witches riding brooms and coming to kill them!! They could have avoided capture so many times if they had just remembered they had mobile legs. I can't count the number of times I screamed at the TV, "RUN! RUN! GET THE HECK OUT OF THERE! WHAT ARE YOU DOING?"
Is this the movie that got Parker the role of Carrie Bradshaw?
Emily is the most useless character in the film. Unless Winifred, Mary, and Sarah put her in a trance, which is never indicated, no little kid would be that obedient when his or her life is being threatened.
Dani is my new favorite little sister from popular culture. She's cute, funny, sassy, and quite perceptive. She annoys and embarrasses her brother, but she doesn't annoy the audience like so many younger sibling characters do. And the relationship between her and Max is sweet and surprisingly believable. She's easily the best child character in the film.
Midler is the reigning queen of all things campy and awesome. "I Put a Spell on You" is the best part of the whole movie, in my opinion. Even better than "Come Little Children." I don't understand why they gave that song to Parker when they had Bette Midler as their lead actress. That's like casting Broadway veteran Jonathan Groff in Frozen and giving him a throwaway one-minute musical segway. Oh well, Midler's song is the one I've had on repeat since seeing this movie, not Parker's.

Max and Allison are pretty boring as characters and as a couple. Max is the fast-talking moronic dweeb who tries to put on a tough act and fails miserably. Allison is your basic 90's pretty girl with no backstory, no character development, and who only exists as a prize for the hero. Been there, seen that. I'd have liked to see a little more depth in these two, especially since Dani is such a great character, but this movie really isn't about the kids; it's about the witches.
… Are you sure this is a children's movie?

Was there an episode of Sex and the City where Carrie dated a NYC bus driver and he let her sit on his lap while she drove the bus around the city on a romantic date? Because it would be just as weird as it is in this movie.
OK. WE NEED TO TALK ABOUT THIS MOVIE'S OBSESSION WITH MAX'S VIRGINITY. The constant jokes about this are creepy and totally unnecessary. Why is this point so important aside from the virgin-lighting-the-black-candle thing? We can guess that Max is probably younger than 16 because he doesn't have a learner's permit. So why does this movie make fun of a very young teenage boy who's still a virgin? Is it supposed to embarrass Max in front of Allison? Does that make him less attractive or more attractive in her eyes? Are we supposed to infer that Allison is not a virgin? Why does this matter? Is this what casual sexism looked like in 1993? I need answers!

I know that everyone usually talks about SJP and Midler, but I'd like to see more of Najimy's work. As she's mostly done television, that would mean me watching a lot of stuff that I haven't seen but everyone else has … Oh, wait.
Final Thoughts: It's easy to see why this movie has such a nostalgic value to it. It's clearly a product of the '90s, when children's movies showed all their adult characters in a ridiculous and idiotic light and the children outsmarted the adults in childish, slapsticky ways. This movie was released the year after I was born, and I never saw it growing up, so it doesn't have the same sense of nostalgia for me that it has for many people. However, Hocus Pocus was a ton of fun to watch and I liked it despite its many flaws. On the Worth Meter, I give it a Worth Owning Used.
Hope you enjoyed this review! For next time, the theme is: Love Stories. Please leave a comment below with your vote. One vote per person, please.
Amélie (2001)
Breakfast at Tiffany's (1961)
The English Patient (1996)
Thanks for reading! Have a wonderful Halloween!
"I put a spell on yooo-hoooo and noooooooooooow you're mine!"
À la prochaine!
– Vicky